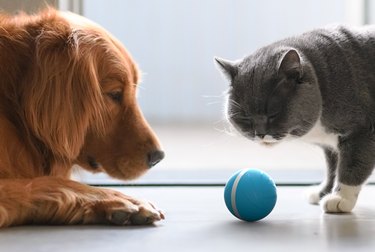 As much as you love your pets and want to take them everywhere with you, that's just not always possible. Cheerble Wicked Ball is a smart toy for dogs and cats that keeps them active and helps them feel less along while you're away.
The waterproof ball is completely safe for pets. While the outer shell is replaceable, the ball is also bite and scratch resistant. It is fully automated, staying active for 10 minutes while resting for 30, so your pet gets just the right amount of exercise without getting worn out.
Choose from three modes: gentle, normal, and active. If your dog or cat likes to play, but gets overwhelmed by too much movement, gentle is probably the best option. But if your pet has tons of energy, active might make the most sense.
Here's how it works
The ball is pretty hard, which may or may not work for smaller dogs. There's also an option for a ball made of wool, which is technically designed for cats, but it's also a good choice for dogs who don't like hard toys.