I don't enjoy cooking. But alas, my family and I must eat. So, when there's a kitchen gadget that can make my life a little easier, I'm all about it.
ChopBox is the "World's First Smart Cutting Board With 10 Features," and it's currently crowdfunding on Kickstarter. It has already far surpassed its fundraising goal, because people are clearly into helpful kitchen gadgets.
The organic bamboo cutting board has a slew of features, including a digital timer, dual board design to prevent cross contamination of food, two knife sharpeners, a disinfecting UVC light, a groove for catching juices, quick charging, a long lasting battery, a weighing scale, USB charging, and it's waterproof.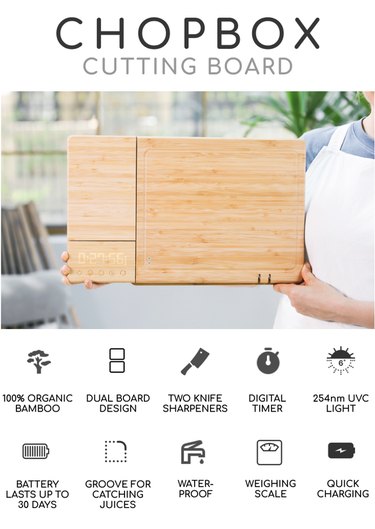 According to the company, the cutting board can replace five kitchen gadgets.
Here's how it works
Click here to back the project.