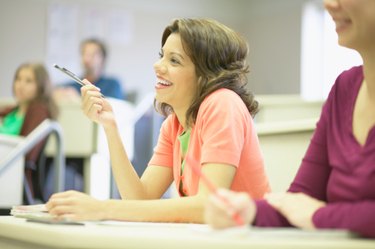 Interactive whiteboards or Smartboards have become popular for classroom lectures and group meetings. Smartboards combine digital technology with traditional whiteboards, enabling the user to project computer images onto a board. The user can then edit these images using a special pen.
Interactivity
Smartboards allow you to control a presentation through a touch board, making interaction easy. Unlike chalkboards or traditional whiteboards, these boards do not leave behind any dust or marker residue.
Flexibility
You can use any of four different marker colors to write on a Smartboard. You can also save Smartboard presentations to a file or convert your handwriting into text. You can even share presentation files by uploading them to a database or to the Internet.
Cons
It can take a while to get used to writing on a Smartboard. The writing quality is generally quiet large, messy and blocky. Smartboards are also expensive, and installation and training costs can be quite high.
Pros vs. Cons
Despite the cons, Smartboards are a common tool for making presentations in classrooms and in meetings. Advancements in Smartboard technology continuously make the system easier to use.