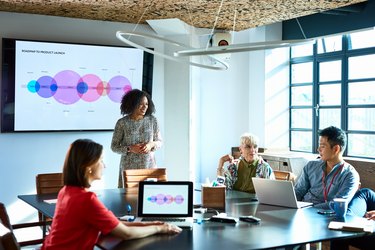 Part of the Microsoft Office suite, PowerPoint is used to create presentations for personal, professional and educational use. The software comes with numerous advantages when it comes to making engaging presentations, collaborating and sharing information. Even better, little training is needed to get started. Despite these advantages, you should consider concerns such as cost, possible technical problems, and the potential for ineffective presentations. Understanding all the PowerPoint presentation pros and cons can help you use this software more effectively.
Basics of PowerPoint Presentations
PowerPoint presentations feature slides where you can put text, images, videos, audio, tables of data and mathematical formulas. You have control over placing and formatting the content and can annotate slides, make custom drawings, and record narration that goes along with the presentation. The software comes with a variety of animations and transitions and gives users control over whether they want to use an automated slideshow or present the slides manually.
Advantages of PowerPoint Presentations
When considering making a PowerPoint presentation, consider the benefits that using the software can offer:
Flexible uses: Individuals, businesses and educators often use PowerPoint presentations to share information in slideshows, but the uses go far beyond that. For example, you can use PowerPoint to create graphics such as banners, brochures, charts and logos for a business. Other uses include calendars, photo albums and collages, invitations, screen recordings, brainstorming maps and resumes.

Engaging presentations: PowerPoint gives you the tools to make engaging presentations that go beyond only text and images to include videos, narration and animations. When used correctly, such presentations help teachers and trainers keep their learners interested and appeal to multiple learning styles.

Detailed customization: PowerPoint gives you full control over your slides' appearance so that you can align content, add annotations, use lists and highlight important information visually. You can also control the slide size to fit your needs.

Suitable for beginners: While training helps with using PowerPoint's advanced features, beginners can quickly get started thanks to the program's huge selection of templates. These templates come with a variety of backgrounds, layouts and themes. You can search by project types such as resumes, posters or charts.

Easy sharing and collaboration: Microsoft Office comes with tools that let you share your PowerPoint presentation to the cloud where others can view and work on it with you easily.

Disadvantages of PowerPoint Presentations
While PowerPoint can offer many benefits for personal, educational or professional use, keep in mind these disadvantages of PowerPoint presentations:
May not always engage users: Although you can make engaging PowerPoint presentations that use multimedia effectively, not all presentations end up that way. Sometimes, the presentations hinder learning when the slides contain distracting elements or contain only text and narration that viewers tune out.

Technical issues: Using PowerPoint can create some headaches when you face compatibility issues, corrupted files or internet problems. For example, Microsoft included a compatibility mode in the program to open older files, but some elements might not work correctly. You might also face hard drive problems that cause you to lose your presentation file if you haven't backed it up, and internet outages make it impossible for users to see your presentation when you share it online.

Potential cost: While Microsoft offers a free basic version of PowerPoint online, you likely need to pay for an annual subscription if you want to use the desktop and mobile apps and gain access to all features. The price depends on whether you need a home or office version of Microsoft Office and how many users you have.

Lack of flexibility during slideshow presentations: Once you start a slide show, you can't easily make changes or annotate any slides during the presentation. Instead, you control moving through slides or ending the presentation. So, you need to ensure your presentation is ready to go beforehand.