Tinder is trying to eliminate catfishing.
A new photo verification feature on Tinder requires users to take a real-time selfie to prove they are who they say they are. The photo must match a sample photo of a model posing in a specific way. Tinder's community team will verify that the selfie matches the model's pose, as well as their profile picture.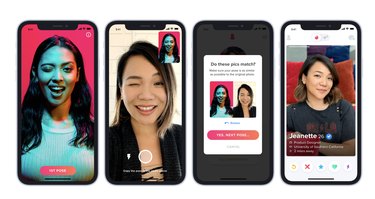 If the photos match, users will receive a blue check mark to give potential matches a heads up that they aren't being catfished.
The goal is to prevent people from showing up on their dates looking nothing like who they portrayed themselves to be in their profile. Of course, this doesn't take into account physical feature changes over time.
Tinder is also launching two other safety features. One feature asks users to report any messages they deem bothersome, and the other is an on-call emergency calling feature in partnership with safety app Noonlight.
Users who choose to sync their accounts with Noonlight can opt-in to display a badge on their profile warning others that they are protected. They can also tell Noonlight when they are going on a date and who it's with, and if there's an emergency while on the date, they can hold down an emergency service button. The app will text and call, and if no action is taken, help will be on the way.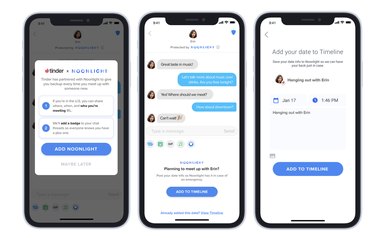 The new safety features are rolling out in select markets.