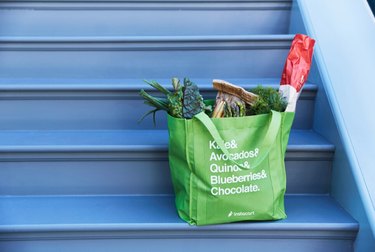 As the novel coronavirus continues to spread across the U.S., people are being asked to shelter in place to help limit the spread of the virus. You're allowed to go to the grocery store, but in addition to the lines being extremely long and the stock being low in many locations, it puts you at risk of becoming infected.
Instacart is a fantastic option to have your groceries delivered directly to your front door so you can stay safe and healthy. Unfortunately, it's pretty hard to actually land a delivery time right now since the demand is so high.
But there's a trick, and it actually works.
Go to the Instacart website or download the app. Choose delivery or pickup and the local store you want to order from (grocery stores, Costco, pet stores, pharmacies, and even Target might be included, depending on where you live).
Fill up your cart with whatever you want. There's an order minimum of $10. Go to checkout, enter your address, and choose a delivery time. If no delivery times are available, try again every hour for the rest of the day. Simply reload the page, and if a time becomes available, it'll appear—your cart won't be lost. If delivery options don't pop up during normal awake times, try at midnight or at another time in the middle of the night. I tried at 4:00 a.m. when my 8-month-old woke me up, and it worked.

You have to be persistent, and it might take a while, but it's worth it to not have to expose yourself and your family at the grocery store.
You can choose the Leave at My Door option, and your delivery person will leave the groceries at your front door and notify you when they have arrived.
And don't forget to leave a good tip, as the delivery drivers are putting their health at risk to keep you fed.