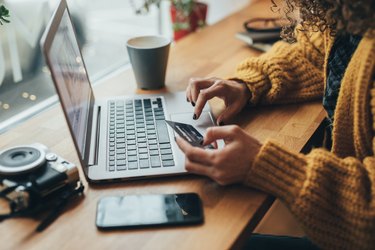 The online retailing giant, Amazon, is known for the wide range of products it sells. You need a free Amazon account, a paid Amazon Prime account or a business account to buy from Amazon. With an Amazon account, you can make new purchases and track your purchases without having to re-enter your information each time. Learn about the different Amazon accounts to decide which option is best for you.
Create a New Amazon Account
Amazon allows you to have one free account per email address. You may want to create a new Amazon account if you have lost access to your old account and email address or if you want to keep your shopping habits under wraps, such as when you and a spouse currently share an Amazon account, but you want to purchase birthday gifts for him. You can create a new Amazon account by going to Amazon.com, hovering over the "Hello, Sign in" top menu option, and then selecting "Start here" next to "New customer." Type in your full name, email address and a password for the new account. Type the password again to confirm it and then click "Create your Amazon account." Note that you must enter your shipping address and credit card information before you can place an order. You do this by hovering over "Account & Lists" and clicking "Your Account" followed by "Payment options" and "Your Addresses" to enter your information.
Prime Amazon Account
Amazon Prime is a paid membership program from Amazon that entitles you to features that free Amazon.com members cannot access. You receive free two-day shipping on millions of items and can access Amazon Prime Video, which allows you to stream movies, TV shows and original programming from Amazon. Other Prime features include Prime Wardrobe, Prime Music and Prime Reading. Prime Wardrobe allows you to try out clothing for seven days before deciding to keep and pay for it, while Prime Music streams music to your devices, and Prime Reading provides free books for your Kindle app or device.
Amazon Prime is billed on either a monthly or yearly basis, but new members can try the service free for 30 days. Go to Amazon.com and click the "Try Prime" link in the top left corner of the screen. Click the "Try Prime" button that appears and then either sign in with your existing Amazon account or select the "Create your Amazon account" button. Fill out the form with your name, address, phone number and credit card information to join Amazon Prime.
Business Amazon Account
If you are a business owner who frequently places Amazon orders for the business, it makes sense to get an Amazon Business account. The Amazon Business account gives you discounts on orders with specific quantities, the ability to compare prices easily, and special pricing that is exclusive to businesses. You can also grant access to employees to order items for the business. Amazon offers both free and paid business accounts. Paid business accounts come with Prime shipping benefits, while free accounts require a minimum order of $25 for free shipping. Go to amazon.com/b2b/ to sign up for an Amazon Business account and click the "Create a Free Account" button. Fill out the form with your name, email and password for the account. You can join Amazon Prime for Business by clicking the "Try Prime" link after creating your account.