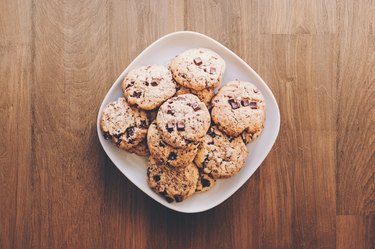 Let's talk about cookies, because they can be confusing. Not cookies loaded with sugar — those are very straightforward. Internet cookies.
Internet cookies, AKA computer, HTTP, or browser cookies, are small pieces of data that are stored on your computer by the web browser as you're browsing a website. There are three types of cookies.
​Session cookies:​ These are temporary and only exist while you browse a website. They are deleted once you close the browser.
​Persistent cookies by first-party:​ These cookies are stored on your computer after you've closed your browser. Their purpose is to reliably remember helpful information, like your user name and password, and to keep track of things like what you've put in your shopping cart on a site. Without first-party cookies, you'd need to enter your user name and password every time you visit a site like Instagram or Amazon, and when you shop, the items in your cart would disappear when you continue to browse.
​Persistent cookies by third-party:​ These are tracking cookies. They are are commonly used as a way to keep tabs on your longterm browsing history. Let's use Instagram as an example again. When you click on those cute yoga pants you see in an ad, and then you start to see those same pants advertised across other websites, that's a third-party tracking cookie. They aren't created or managed by the website owner, but by information brokers who collect your data for advertisers to target you with ads.
Your security depends on the security of the website and your browser (like whether or not cookie data is encrypted).
Accepting cookies will give you the most streamlined user experience, but it isn't essential. For some users, the cookie risk isn't as important as a convenient internet experience. You can block all cookies in the privacy and security section of your browser's settings, or you can decline them when that little box pops up on a website. You know, the annoying one that asks if you'd like to accept cookies.
Some companies may not allow you to use their websites if you don't accept their cookies, mainly because the sites simply won't work without cookies. Other websites may still give you access, but you might not experience the most relevant content.
Most websites will work just fine if you decline the Accept Cookies message, you just may not get the personalization that makes browsing more convenient.
You should always decline cookies if the website you're trying to access is a non-secured site. Look at the address bar at the top of your browser that shows the current UR. If there isn't a tiny lock symbol to the left of the URL, it's a non-secured website. If the Accept Cookies pop up includes mention of a third-party, decline it. They are generally safe, but it only takes one badly configured site to gather your surfing habits, phone number, address, email, payment information, and other personal information.