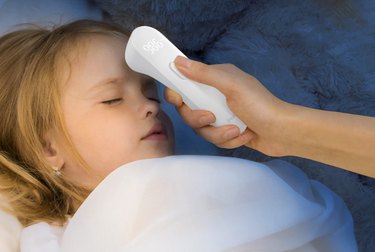 Finding a thermometer that actually consistently works is kind of like spotting a narwhal in the ocean. Like, it's possible, but infuriatingly rare.
Except we found one. The iHealth Touchless Digital Thermometer is the go-to thermometer for parents and doctors who need to be able to rely on a trusted thermometer, especially during a pandemic when accurate temperature readings are essential for health and safety.
The iHealth thermometer has close to 90,000 5-star ratings and reviews on Amazon, which is a ridiculously hight number of happy customers. It's Amazon's #1 best selling thermometer for a reason — it's fast, clear, simple, quiet, and accurate. The last thing you want to do in the middle of the night is wake a sleeping child. This thermometer won't do that, as it doesn't have bright lights or noises, instead it has a not-so-bright LED screen and a gentle vibration alert to let you know when it's ready.
It has three ultra-sensitive infrared sensors that accurately only pick up the body temperature of your child. (It works on grownups too, of course.) You can purchase the iHealth thermometer here for $19.99.
Here are some Amazon reviews
This one: "I'm a Family Practitioner PA for the past 38 years and cannot tolerate an incorrect temperature reading. This is right on compared to both a glass and digital thermometer. Takes only a second to work and it even works with a moving target.Highly recommended for the medical professional and for home use, especially with little kids. Stay healthy."
This one: "I mainly purchased this for the middle of the night. My littles tend to spike their fevers at night and they always feel like they are 500 degrees. I wanted a way to take their temp without disturbing them. This is PERFECT for that. No beeping, no bright lights, easy to hold and use. That being said, the people complaining about inaccuracy aren't using it in the proper spot. I tested this by measuring different areas of the forehead and they are not all the same temp with or without a fever. You need to aim it at the center of the forehead about a fingers width away and you'll be all set!"
This one: "I had a much more expensive one and it didn't work after a few uses. This one doesn't have the memory data and piled up useless stuff to make it tear up quickly. It feels good in the hand, doesn't feel like thin cheap plastic and performs everything but what it is needed for. It's heavier, more solid, reads the temp in a second and shuts off in 8 seconds. It doesn't stay on a half day and drain the battery."
This one: "1. Temperature reading is pretty accurate for an infrared thermometer with ~ 1 degree f error at most. 2. Nice to be able to change unit like advertised. 3. Love love love the design, very minimalistic with no extra buttons or colors. 4. Battery comes with the product."
This one: "I have purchased & used a variety of thermometers throughout the last 2 months: ear, forehead, oral, touch & non-touch kinds. This one is quite accurate (I have compared the temperature to my oral & the ear ones), & extremely fast, less than a second for a reading. I love it, because it is the only one that's non-touch yet accurate. Easy to use too, with no waiting for a reset. Overall a great buy, esp for this price."