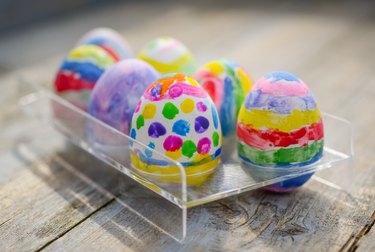 If we've learned anything over the past year, it's that celebrations don't ​have​ to take place in person. (Of course, hugs are nice, but so is not getting/spreading a deadly virus.) So, if you're continuing to social distance, you can still celebrate Easter with friends and family by hosting a virtual Easter egg hunt.
We came up with an Easter egg hunt that's more of a virtual/in-person hybrid. It allows you to spend time with loved ones virtually while all the kids experience a fun egg hunt simultaneously at their own homes.
Easter is Sunday, April 4, so you still have plenty of time to plan a fun virtual Easter egg hunt.
Invite friends and family
Set up a Zoom call (free up to 40 minutes) or Google Meet call (free up to 60 minutes), and send out the link to whoever you want to invite. FaceTime is also a good option, as you can add up to 32 people in a group chat and talk for as long as you want. A perk of virtual celebrations: You don't have to invite that one aunt who steals all the eggs.
Come up with a list of hiding spots to send to everyone
Each family should hide eggs in the same general area in their homes to make things fair and more fun. So, create a list of hiding spots and the number of eggs that should be hidden in that area. For example, hide two eggs under a tree or a bush in the backyard, three in the laundry room, four sprinkled throughout the yard, two under couch cushions, etc. Modify how well the eggs are hidden based on the age of your kids.
Before the call, distract your kids with something they can't turn down — like screen time — and hide the eggs. Maybe even do it while they're sleeping, because kids are sneaky.
Start the Easter egg hunt
Once everyone's on the call and ready to go (wearing their pastels and bunny ears, obviously), give your kids their baskets and send them on their way at the same time. The list will remind you exactly where you hid each egg, so you don't need to worry about finding straggler eggs for the next year.
Food makes every celebration better, even virtual ones. So for some added Easter festiveness, create an appetizer menu that everyone can make on their own to enjoy together. If guests live nearby, each family can be responsible for making one thing that they can safely drop off at each home on Easter morning or the day before.