If you were lacking a little focus at your recent WebEx meeting, you can download and play a recording of the meeting just in case you missed something important. All downloaded recordings use WebEx's proprietary ARF (Advanced Recording File) format. To play an ARF file, you must have the Network Recording Player, available as a free download from WebEx, installed on your computer. In addition to playing your downloaded ARF files, you can also use it to convert the recordings to the WMV, SWF or MP4 file formats, which makes it convenient to share them with others.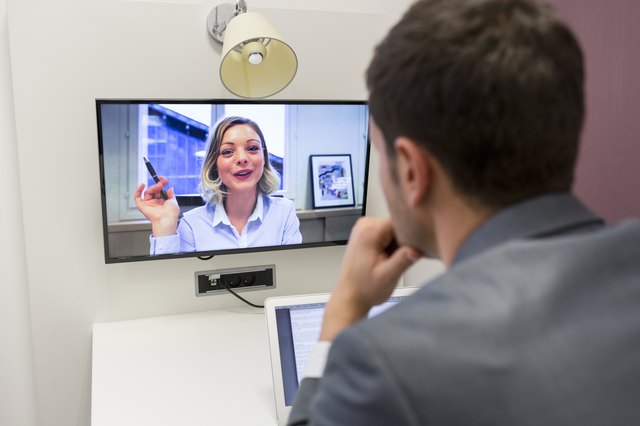 credit: LDProd/iStock/Getty Images
Playing ARF Files
Visit the WebEx Player download page at WebEx.com. Click the "Windows" link under the .ARF File section to download the Network Recording Player. After downloading, install the WebEx Network Recording Player, and then open it. Click "File," click "Open," select the ARF file from your hard drive, and then click "Open" to play the ARF file; if you have yet to download the recording, sign in to your WebEx account, click the "Files" tab, and then use "Download" on the Options menu next to the meeting that you want to review. The Network Recording Player features both a Pause and a Stop button, as well as a seek slider that you can use to skip any parts of the recording.
Converting ARF Files
To convert an ARF file to the WMV, SWF or MP4 file formats, first open the ARF file in the WebEx Player, and then open the "File" menu. Point to the "Convert" option, and then select your preferred file format. When converting to WMV and MP4 formats, you can select the meeting components that you want to appear on the converted video. The MP4 format also lets you adjusts the video quality of the converted video; high video quality results in an increased file size, while low video quality results in a lower file size.