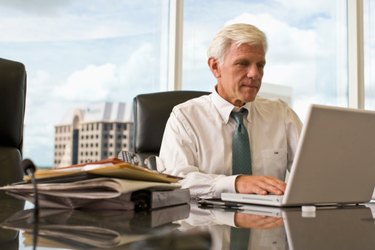 All PC users are able to record GoToMeeting sessions (called webinars), though they must configure their recording preferences prior to the start of the session. This allows them to select both an audio type and media player format (limited to either GoToMeeting format or Windows Media Player). By default, recordings are saved under My Documents, and you should take care to have plenty of space available for recording files. GoToMeeting requires a minimum of 500 MB free disk space to make a recording, but to be safe you should have upwards of 1 GB available. The recording will show all activity that appears on the screen during the meeting, as well as any file sharing done by participants.
Step 1
From the Organizer Control Panel, go to "View" and then click "Recording." When the Recording window opens, click the blue "Settings" hyperlink in the lower-right corner.
Step 2
In the Settings panel, select or disable video and audio recording options as needed. Here you may choose your video recording output format, as well as whether or not you would like to record audio. Selecting Windows Media Player as the output format will require more disk space to accommodate the recording, but will also allow anyone with Windows Media Player installed on his computer to view that recording. Finally, choose the folder in which you would like to save the recording (this is My Documents by default). When finished, click "OK."
Step 3
When it is time to record the webinar, simply click "Start Recording" in the Recording window. GoToMeeting will then record all screen activity and the audio as per the preferences you selected in the setup stage.
Step 4
Click "Stop Recording" either when the webinar is finished or if at any point you would like to stop recording. After the webinar ends, GoToMeeting will automatically format the recording and save it to the location specified earlier. This can take some time (especially if you opted to convert the recording to Windows Media format), so be patient and do not exit the program until you have confirmed the process is complete.