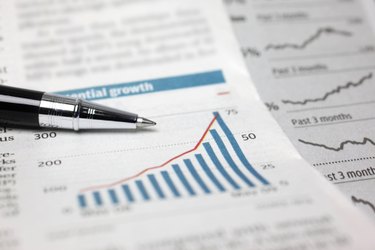 Tally is an easy-to-use financial program that allows users remote access to view and work on financial reports. Tally allows financial experts to view or work on reports from anywhere or from any computer. It is highly customizable and can generate reports with a single click, automatically calculate budgets, analyze data and print reports. The program automatically detects and adds your computer's default printer. If you are having trouble printing Tally reports, it may be due to a configuration problem that can be easily fixed.
Printer Drivers
Step 1
Go to the "Start" menu and select "Control Panel." Select "Hardware and Sound" and click "Printers."
Step 2
Locate your printer in the window and note whether it is installed correctly. If there is a yellow triangle next to the printer, or the printer icon is faded, there is a printer connection problem and you need to reinstall the printer's drivers.
Step 3
Reinstall the printer drivers from the disk packaged with the printer. Insert the disk in the DVD/CD drive and allow the installation wizard to start automatically. Follow the on-screen prompts to finish the installation.
Step 4
Download the printer drivers from the manufacturer's website if you no longer have the original drivers. Click the icon twice to install the drivers.
Tally Configuration
Step 1
Open Tally and open the report you want to print. Press "F12" to see the printing size being used. Change the size if necessary by selecting the correct size with your arrow keys. Change other printing options in the list of options under the "F12" category.
Step 2
Click "Print" from the top of menu.
Step 3
Choose the "Select Printer" option from the bottom right area of the new window that appears.
Step 4
Choose your printer from the list of available printers by selecting it with the arrow keys on the keyboard.
Step 5
Press "Enter" and confirm printing by pressing "Y" or clicking "Yes." Wait for printing to start.