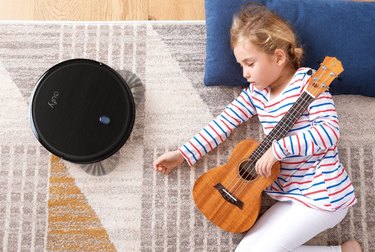 Amazon's number one best selling robot vacuum is currently on sale, so if you've been wanting someone or something to vacuum your floors so you don't have to, the time has come to buy one. It's been a hard year, you deserve that kind of service.
The most popular vacuum on Amazon is the Eufy Anker RoboVac 11S with over 30,000 5-star ratings. The RoboVac is slim at only 12.8 inches in diameter and 2.8 inches tall, making it the perfect size to fit under low tables and couches. It's also quiet, has a strong suction power of 1300Pa, and it can consistently run for 100 minutes before it needs a recharge.
Available in black or white, the device comes with a remote so you can literally not lift more than a finger to have your floors vacuumed. Plus, you can set a schedule so you don't ever have to think about vacuuming. But the best part — it's affordable. The vacuum is normally $229.99, but right now it's listed for $149.99 on Amazon, saving you $80.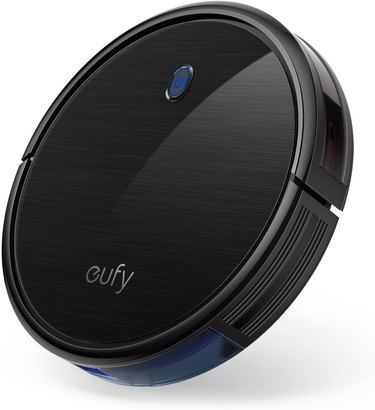 According to reviews, the RoboVac does just as good of a job at cleaning as more expensive robot vacuums.
One reviewer wrote, "Cleaning power: This thing sucks... It's suction is much stronger than my Roombas have had. It picks up so much dust and pet hair. We do a full vacuum every other week with my Dyson, so I think of the robot vacuum as a supplemental vacuum. I was shocked at how much was in the dustbin after it's inaugural cleaning!"
Another reviewer wrote, "We've been running it for about ten days now and it gathers a large amount of dirt and dust every day. It is slim enough that it easily gets underneath all the beds and most of the sofas and chairs, places that our upright vac couldn't get to.Some reviewers have stated that this works best in an apartment or small house; our house is single story, about 2300 square feet and it makes it around everywhere."
Another wrote, "Set a schedule and forget about your floors. Weeeee! One negative though is I've caught myself sweeping crumbs from the table onto the floor, because my robot slave will get it... I'm so entitled now..."