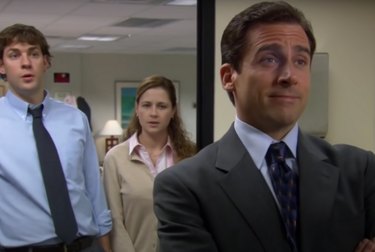 ​The Office​ was removed from Netflix earlier this year. If you're still mourning that loss, we get it. And same. But good news all around, in honor of the show's 16th anniversary, NBCUniversal is offering every single episode of ​The Office​ free for one week on Peacock. That's what she said.
Since the show switched over to Peacock on Jan. 1 of this year, the streaming platform has offered the first two seasons for free with ads, while seasons 3 to 9 have only been available to subscribers who pay Peacock's $4.99 per month tier with ads or the $9.99 per month tier without ads.
Now through Thursday, Mar. 25, you can watch all nine seasons of ​The Office​ for free with no ads. Is it possible to watch all 201 episodes in one week? Yes, yes it is. It won't leave much time for anything else, but who needs sleep with you have Michael Scott at your disposal?