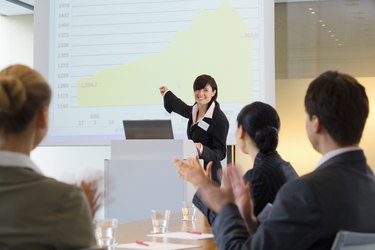 With the launch of Microsoft Office 2007, the Office Open XML file format became the standard for all Microsoft Office files. PowerPoint files created in versions of Office later than 2007 are in the PPTX file format with the "X" signifying the XML format. PowerPoint files prior to the 2007 version are in the PPT file format. To convert an XML PowerPoint file to a previous version, install the compatibility pack from Microsoft.
Step 1
Browse to Microsoft.com/Downloads on your computer. Type "Compatibility Pack" into the search bar and press "Enter." Click on "Microsoft Office Compatibility Pack for Word, Excel, and PowerPoint File Formats" from the list.
Step 2
Click "Download" and choose a location on your computer to download the file. Double-click the "FileFormatConverters.EXE" file to start the installation process. Follow the on-screen instructions to finish installing. You may need to restart your computer after the installation.
Step 3
Double-click on a PPTX PowerPoint file in the XML format. It will convert and then open in your version of PowerPoint. It will be converted to a PPT file upon saving the presentation.