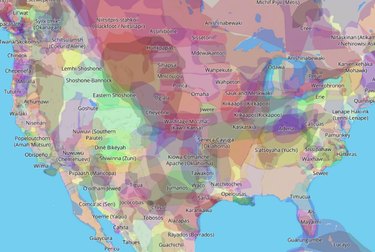 By now you should know that this land was actually not made for you and me. Land across the United States was originally inhabited by Indigenous people who were forced off their land by white Europeans.
To pay respect to the Native Americans who took great care of their sacred land and to honor the history, a Canadian non-profit created an app called Native Land Digital, which lets users explore which Indigenous nations lived on specific land throughout the world.
While the map doesn't represent official or legal boundaries of any Indigenous nation, it does bring awareness of our land's history.
"For Native Land Digital, what we are mapping is more than just a flat picture," the website reads. "The land itself is sacred, and it is not easy to draw lines that divide it up into chunks that delineate who 'owns' different parts of land. In reality, we know that the land is not something to be exploited and 'owned,' but something to be honoured and treasured. However, because of the complexities of history, the kind of mapping we undertake is an important exercise, insofar as it brings an awareness of the real lived history of Indigenous peoples and nations in a long era of colonialism."
To explore the land, you can visit the website or download the free app for iOS or Android. Enter your address or click on any region to see the relevant territories. Links will pop up that'll take you to more information about that specific nation, language, or treaty.
You can support the non-profit by donating money or your time. Find out more here.