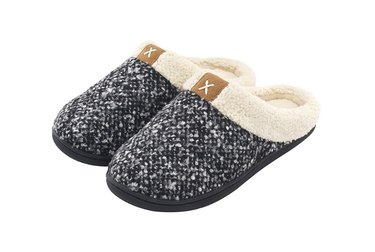 It's never the wrong time to buy slippers. No matter what the temperature is outside, feet always deserve a cozy layer of comfort when walking around the house. Amazon's best selling women's slippers provide that and so much more.
The top selling slippers for women come from a company you've probably never heard of — ULTRAIDEAS. But don't let that deter you. Made of fuzzy wool-like material on the outside with a plush fleece liner and memory foam on the inside. You just really can't go wrong with memory foam slippers that mold to your feet as you walk.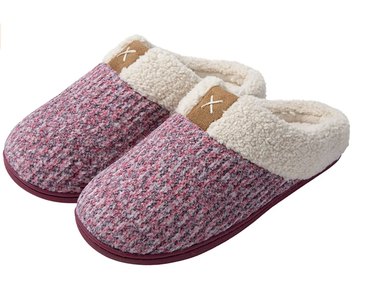 They have a durable anti-skid rubber sole, which means you can wear your inside slippers outside as if they're regular shoes. No one has to know. Another tidbit that makes these slippers special — they're machine washable. So, if you do decide to wear them outside and happen to step in anything unforgiving, you can wash them.
Available in seven super cute colors and sizes 5 to 12, the company states that they'll stretch a bit after use, but according to reviews, you should size up one size. Speaking of reviews, the slippers have over 30,000 5-star ratings on Amazon! That's a lot of happy feet. The price ranges from $21 to $24, depending on the size and color you order.
One reviewer wrote, "I really love these cozy, cute slippers! I read lots of slipper reviews before choosing these, and I'm glad I picked them. They feel really soft and warm on my feet, they stay on well, and they look nice."
Another reviewer wrote, "These slippers are cozy and yummy! I wanted something warm, easy to slip on and with a sole I could wear outside. Glad I read reviews before purchasing so I knew they ran a little small (I wear an 8, but ordered the size designated for 9-10) ... the 7-8 MAY have worked but this size is just fine as is. Very happy with my choice ... and so are my feet!"
Another reviewer wrote, "LOVE these slippers! They are so soft and comfortable. I agree with those who suggest that you buy your pair one size larger than what you normally purchase. Doing that keeps your slippers very roomy inside and keeps your heels away from hanging off of the back ridge. They feel safe on my feet and are very warm. They wash well too!"
Another reviewer wrote, "I was a little skeptical about these because I'm not a big slipper person-I prefer socks, but my new apartment floor is just too cold for socks alone. I shouldn't have worried, this are SO warm and very comfortable."