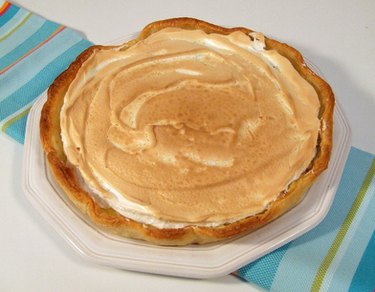 Making meringue at home home is easy with just egg whites and granulated sugar. Make meringue ahead of time and store it in your refrigerator so you can have the fluffy treat on hand for a day of making pies and desserts. Knowing how to refrigerate meringue properly keeps it from separating and seeping, which ruins its texture.
Step 1
Mix cornstarch with hot water to dissolve it.
Step 2
Pour the warm solution into the homemade, uncooked meringue mix. The recipe of homemade meringue is easy, and different variations of the recipe can be found in cookbooks and online. Whether you use a homemade formula, or you mix one from an instant mix, the actual meringue recipe takes the cornstarch solution. The cornstarch solution stiffens the meringue. This makes it easier to cut when it is cooked and also keeps it from seeping.
Step 3
Beat the mixture on high for 1 minute to disperse the cornstarch water throughout it. This technique keeps the meringue from shrinking, falling or separating in the fridge.
Step 4
Stretch a sheet of plastic cling wrap tightly over the bowl containing the meringue mixture. Make sure the entire opening of the bowl is covered with the wrap so as not to let any air into the mixture.
Things You'll Need
4 cups fresh meringue mixture

Hand mixer

1 tbsp. cornstarch

1/2 cup hot water

2 qt. glass bowl

Plastic cling wrap
Tip
Cookbooks and recipe websites contain a variety of meringue recipes, although making meringue from scratch simply involves beating the egg whites and sugar together until it fluffs up. Pour the uncooked meringue on top of your pie, or use as any other dessert choice within two days. Broil the meringue on a pie for 5 to 7 minutes to brown and stiffen it. Bake the meringue on a cookie sheet for 10 minutes to make meringue cookies.