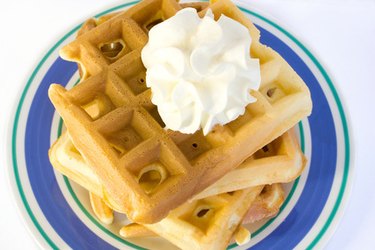 Smaller and sleeker than the 4-slice version, the Chefmate WM-77 Waffle Iron allows you to make personal waffle servings for a small breakfast or snack. Knowing how to use the Chefmate WM-77 gives you the ability to whip up homemade waffles in just minutes without dirtying up your stove or using a bulky griddle.
Step 1
Add the powdered waffle mix, milk and egg to the glass bowl and whisk it until it forms a creamy, thin mixture.
Step 2
Plug in the Chefmate waffle iron and allow it to warm up for 5 minutes.
Step 3
Lift the top of the waffle maker and pour the mixed batter into the lower reservoirs, filling the square, waffle-shaped burrows.
Step 4
Close the lid of the waffle maker and allow it to cook the homemade waffles for 10 minutes.
Step 5
Unplug the machine to let it cool and remove the waffles from the nonstick surface.