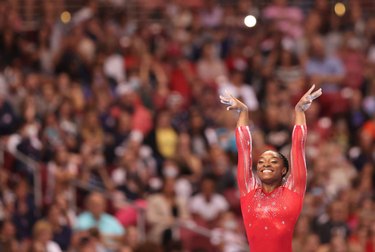 The 2020 Olympic Games will kick off in Tokyo on Friday, July 23 and will run through Sunday, August 8.
There are several ways to watch the Olympics, but the best way to watch full coverage is to sign up for NBCUniversal's Peacock streaming service. Peacock is launching an entire Tokyo Olympics destination on July 15 which will include live coverage of events like gymnastics, track and field, beach volleyball, swimming, diving, tennis, and trampoline (yes, trampoline is an Olympic sport). Most of the programming will be free to stream with the exception of U.S. Men's Basketball.
Peacock is launching six new channels that'll include daily live shows, designated Olympics channels, replays and highlights, and original programming.
Here's what you need to know to stream the Games:
The XXXII Olympic Games will take place Friday, July 23-Sunday, August 8 in Tokyo. The Opening Ceremony kicks off Friday, July 23 in Tokyo at 7 a.m. ET/4 a.m. PT. The Olympics Closing Ceremony will take place at 7 a.m. ET/4 a.m. PT Sunday, August 8.
Keep in mind, Tokyo is 13 hours ahead of U.S. Eastern time, so events that take place in the evening in Tokyo will air live early in the morning in the U.S. (in the middle of the night for Pacific time).
Where to watch the Olympics?
Peacock is the place to go to stream full coverage of the Games, but you can also find coverage on your local NBC station, NBC Sports Network, USA, CNBC, the NBC Olympics channel, the Golf Channel, and Telemundo.
Other streaming options include NBCOlympics.com and NBC Sports.com, as well as platforms that offer NBC, including Hulu Plus, Sling TV, FuboTV, AT&T TV, and YouTube TV.
Olympics TV and streaming schedule by sport
​Sport​

​Dates ​​(EDT)​

​Where to Watch​

Ceremonies

July 23 (Opening)

August 8 (Closing)

NBC, NBC Sports
NBC Olympics
Peacock

Archery

July 23-July 31

Artistic Swimming

August 2-7

Badminton

July 23-August 2

CNBC, NBC Sports
NBC Olympics

Baseball

July 27-August 7

Basketball

July 24-August 8

CNBC, NBC Sports
NBC Olympics
Peacock

Basketball 3X3

July 23-28

Beach Volleyball

July 23-August 6

Boxing

July 23-August 8

CNBC, NBC Sports
Olympic Channel

Canoe/Kayak

July 25-August 6

CNBC, NBC Sports
NBC Olympics

Cycling

July 23-August 7

<Diving

July 25-August 7

CNBC, NBC Sports
NBC Olympics

<Equestrian

July 24-August 7

Fencing

July 23-August 1

Field Hockey

July 23-August 6

Golf

July 28-August 6

Gymnastics

July 23-August 3

NBC Sports
NBC Olympics
Peacock

Handball

July 23-August 8

CNBC, NBC Sports
Olympic Channel

Judo

July 23-31

Karate

August 4-7

CNBC, NBC Sports
NBC Olympics

Modern Pentathlon

August 5-7

Rhythmic Gymnastics

August 5-7

<Rowing

July 23-29

Rugby

July 25-31

Sailing

July 24-August 4

Shooting

July 23-August 2

Skateboarding

July 24-August 4

Soccer

July 24-August 7

NBC Sports
NBC Olympics
Peacock (Highlights)

Softball

July 23-27

Sport Climbing

August 3-6

Surfing

July 24-31

Swimming

July 24-August 4

NBC Sports
NBC Olympics
Peacock (Highlights)

Table Tennis

July 23-August 6

CNBC, NBC Sports
NBC Olympics

Taekwondo

July 23-27

Tennis

July 23-31

Track & Field

July 30-August 7

NBC Sports
NBC Olympics
Peacock

Trampoline

July 30-31

Triathlon

July 25-27

Volleyball

July 23-August 8

Water Polo

July 24-August 8

Weightlifting

July 23-August 4

Wrestling

July 31-August 7

CNBC, NBC Sports
NBC Olympics