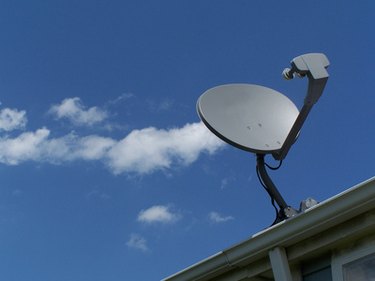 Although some local television channels in specific regions are available to Dish Network subscribers, usually not all of the local channels are offered by the satellite provider. To obtain local channels that are unavailable, a Dish subscriber could connect his satellite receiver to an over-the-air antenna. Depending on the proximity of local TV broadcast towers, a Dish Network subscriber can receive additional channels via an over-the-air antenna without affecting his satellite subscription fee.
Connecting Antenna to Dish receiver
Step 1
Make sure Dish Network receiver is equipped with an over-the-air (OTA) module. The models that are equipped with the module include Duo ViP 211 HD receiver, Duo ViP 211k HD receiver, Duo ViP 222 HD receiver, Solo DVR ViP 612 HD DVR, DuoDVR, ViP 622 HD DVR and the DuoDVR ViP 722 HD DVR. Receiver models DuoDVR ViP 722 or Duo ViP 222k HD do not have built-in OTA modules, but customers can purchase the modules from Dish Network.
Step 2
Run a 75-ohm coaxial cable from your indoor or outdoor antenna, and connect it to the "Over The Air Antenna In" coaxial jack in the rear of the Dish Network antenna.
Step 3
Go to the on-screen menu of the Dish Network receiver, then go to "System Setup," click on "Local Channels," and then select "Scan Locals." When the scanning process is complete, the number of channels found will be listed. Press "OK" to go back to the local channel menu.