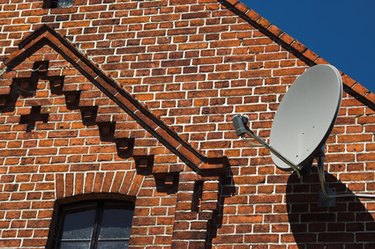 FTA systems use existing satellite dishes to collect free-to-air TV channels that are distributed without any encryption methods. You can use your older DirecTV dish in conjunction with an FTA receiver to watch the FTA channels on your TV. The FTA receiver hooks up to your DirecTV equipment with the same cables as standard satellite gear.
Step 1
Disconnect the old DirecTV receiver from the feed attached to the satellite dish.
Step 2
Fasten the feed from the satellite dish's LNB port to the "LNB IN" or "DISH IN" jack on the rear of FTA receiver.
Step 3
Plug the FTA receiver into the nearest wall outlet. Insert one end of the composite cables into the "Audio+Video OUT" port on the receiver and attach the other end to the "Audio+Video IN" ports on your TV's input panel.
Step 4
Turn on your TV and press the "Input" button to select the input attached to the FTA receiver. The picture from the receiver will appear on the screen.
Step 5
Press the "Menu" button on the receiver's remote control and choose the "Installation" or "Setup" option. Select the desired satellite in the "Satellite" entry and choose the "Auto Search" option to scan for the available channels.