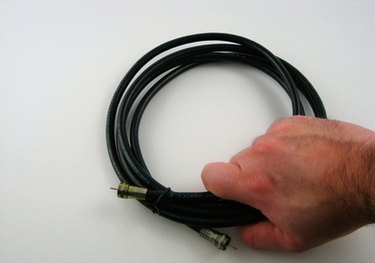 Dish Network supplies satellite service to homes and businesses across the country. Dish Network provides customers with an alternative to cable companies for television programming. A satellite signal is often available in locations where cable cannot reach. Once you have your Dish Network setup in place, you can move one of your Dish receivers to another TV in a few minutes as long you have an available cable from the satellite dish going to the new location.
Step 1
Check to make sure the television in the new location includes the same type of connections needed for the specific satellite box. Most Dish receivers use one coaxial cable or an RCA cable (red, white and yellow). Some use special cables, such as HDMI or component video (red, green and blue) cables along with audio (red and white) cables.
Step 2
Turn off and unplug the Dish receiver in the old location. Disconnect all of the cables running from the receiver to the television. Remove the cable coming from the satellite to the back of the receiver.
Step 3
Place the receiver in the new location. Connect the coaxial cable coming from the satellite dish (or multi-switch) to the back of the receiver using the "Sat In" jack.
Step 4
Connect one end of coaxial cable to the "Out to TV" jack on the back of the Dish Network receiver and the other end to the "In" jack on the television.
Step 5
Plug the receiver into a power source. Turn on the receiver and television to view.
Tip
Use a single HDMI cable in place of the coaxial cable and the HDMI jacks on both ends, if your Dish receiver is set up this way. Use the corresponding jacks matching the colors for any RCA, component video and audio cable connections. Connect the cables to the "A/V (audio/video) Out" jacks on the Dish Network receiver and the other end to the "A/V In" jacks on the new television.
Warning
If the new location does not have a cable already run to it, you need to run one. Use the same cable in the new location, if you can move it, or run a new line directly from the satellite dish or from the multi-switch location. If you are not sure how to do this, contact a professional satellite installer.