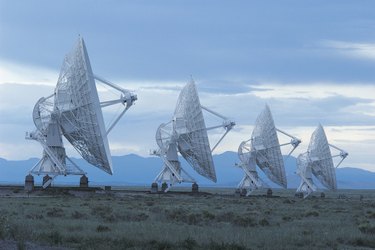 Connect your DirecTV receiver to your projector instead of your television, and you can display larger-than-life images while watching movies and shows. DirecTV offers more than 400 channels to its satellite subscribers, and its receiver has the connectors needed to integrate a projector into your home entertainment system. You can make the proper connections to display your DirecTV programing in less than five minutes.
Step 1
Connect one end of the RCA component cable to the back of your DirecTV receiver. Plug the yellow component cable into the "Video Out" port, the red cable into the red "R Audio" port and the white cable into the "L Audio" port.
Step 2
Connect the other end of the RCA component cable to the back of your projector. Plug the remaining yellow component cable into the yellow "Video" port on the "Video In" section of the device to send the video from the receiver to the projector. Insert the remaining red and white RCA cables' male connectors into the red "R" and white "L" female ports.
Step 3
Turn on both your DirecTV receiver and your projector. The images from the outputs on the receiver will be displayed by the projector.
Tip
If you prefer, plug a four-pinned S-Video cable into the "S-Video" output on the receiver, and then into the "S-Video" or "S2-Video" jack on the back of the projector.
You can even connect the two devices with an HDMI cable for HD display, if both your receiver and projector have the appropriate ports.
Warning
If using an S-Video cable instead of the yellow component cable to establish a video connection, you still must make the RCA red and white cable connections to hear sound.
The connection ports on DirecTV receivers and projectors may vary, depending on the models you own.