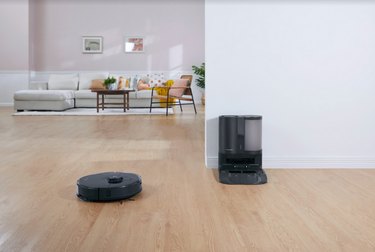 The Roborock S7 is a smart robot vacuum that makes life easier... and cleaner. It vacuums ​and​ mops your floors, picking up dried dirt that regular vacuums can't get. Pretty impressive, right? Well, here's something even more impressive — Roborock has a new auto-empty dock that holds onto dust for up to eight weeks, so your vacuum can efficiently do its job for two months straight without you even thinking about it.
The auto-empty dock features a multi-stage filtration system that captures up to 99.99% of particles as small as 0.3 microns to prevent dust leaks. It's a huge help to people who deal with allergies on a regular basis (or even just seasonally... or sneeze-onally).
Intelligent dust collection algorithms allow the dock to automatically empty at whatever time works best for you. It has HEPA air filtration, which is designed to remove harmful particles from the air, including pollen, pet dander, dust mites, and tobacco smoke.
The dock doubles as a charging base to make life even easier and to keep things concise. Inside the device is a large 3 liter bag can hold up to eight weeks worth of dust and debris, saving you the trouble of emptying the bin every few days. Using the app, you can choose to empty the bin manually — you know, like if your kids come home with an entire park's worth of sand in their shoes and fail to take them off outside.
Here's a look at how it works:
The auto-empty dock only works with the Roborock S7 model and it comes in either white or black. You can purchase it for $299.99 at Amazon or Walmart.