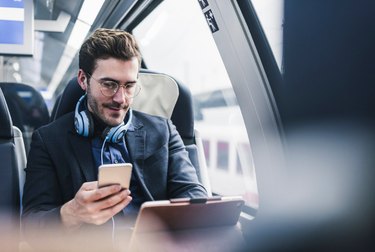 We've all been in the situation where we desperately needed Wi-Fi but it was no where to be found. When that happens, your iPhone's hotspot can actually be a Wi-Fi and cellular source for your laptop, tablet, or other phones. You just need to get it set up.
Most major carriers offer tethering services, which broadcast your phone's mobile signal as a Wi-Fi network, but your ability to create a hotspot depends on your service plan and data allowance.
Something to note: connecting to your hotspot causes your phone's battery to drain quicker. So, it might make sense to have an extra charger on hand.
How to set up your iPhone's mobile hotspot
Go to Settings > Cellular > Personal Hotspot or Settings > Personal Hotspot.
Tap the slider next to Allow Others to Join.
If you don't see the option for Personal Hotspot, contact your carrier to make sure that you can use Personal Hotspot with your plan.
How to connect to a personal hotspot
You can connect to a personal hotspot using Wi-Fi, Bluetooth, or USB. If you're phone runs iOS 13 or later, your device will stay connected to the hotspot even when it's locked.
Go to Settings > Cellular > Personal Hotspot or Settings > Personal Hotspot and turn it on. Make note of the Wi-Fi password and name of the phone. Stay on this screen until you've connected your other device to the Wi-Fi network.
On the device that you want to connect, go to Settings > Wi-Fi and look for your iPhone or iPad in the list. Then tap the Wi-Fi network to join. If asked, enter the password for your Personal Hotspot.
First, you need to make sure that your iPhone or iPad is discoverable. To do this, go to Settings > Bluetooth and stay on that screen. Then on your Mac or PC, set up a Bluetooth network connection.
Personal Hotspot supports Bluetooth connections with Mac, PC, and other third-party devices. To connect another iOS device, use Wi-Fi.
If you haven't already, download the latest version of iTunes on your Mac or PC. Then connect your iPhone or iPad to your computer with the USB cable that came with your device. If you see an alert that says tap "Trust This Computer?" tap Trust.
How to disconnect devices
To disconnect a device, turn off Personal Hotspot, turn off Bluetooth, or unplug the USB cable from your device.
Let your family join automatically
Family Sharing allows your family to automatically join your hotspot without needed to enter the password.
On your device with personal hotspot, go to Settings > Personal Hotspot > Family Sharing.
Turn on Family Sharing.
Tap the name of each of your family members and set whether they need to ask for approval or join your Personal Hotspot automatically.