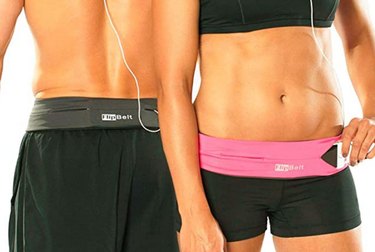 If you want to listen to music, a podcast, get on a call, use fitness tracking apps, or have your phone on you in case of an emergency while you're running or working out, you're going to need a sturdy phone holder.
Phone holders can be hit or miss. It's important to find one that securely fits your smartphone and is actually comfortable enough wear while running. Running with a phone flopping around on your arm or waist isn't an ideal situation. It's important to use one that feels snug enough so you feel confident that your phone won't fall and break.
Here are the top three best phone holders for running or working out.
This top rated phone holder doesn't just hold any phone model, it can also hold your ID, money, earbuds, keys, chapstick, mace, and any other small item you might need. It's so comfortable that you might not even remember you're wearing it. You can't beat the variety — it comes in 13 colors and seven sizes.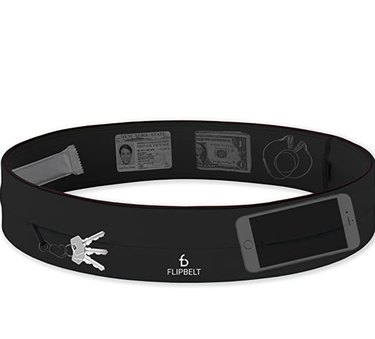 With over 31,000 5-star reviews on Amazon, this armband is a top-seller for a reason. It fits most smartphones (even with the case on if it's thin), it has an adjustable strap to ensure it doesn't move around on your arm, and it has a pocket for your key. It comes in 11 colors and three size. The best part is that the touchscreen functions work while your phone is in the holder — convenience at its finest.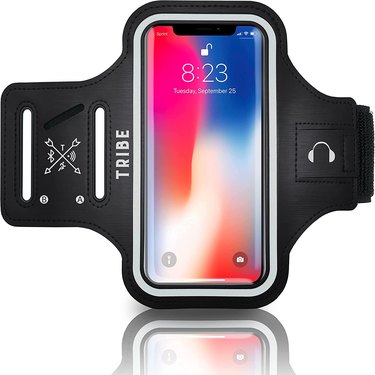 The slim design of this budget-friendly running belt prevents it from bouncing around on your waist while you run. Although it's one size fits all, the belt is adjustable and fits waist sizes 28" to 49". You can even wear it over your clothes while running in the colder months. It's machine washable and comes in five color options.