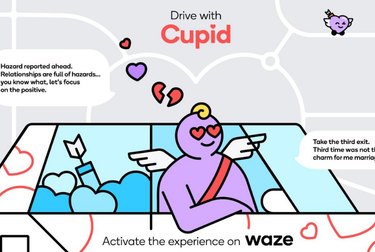 Waze is giving you a Valentine's experience you'll never forget. OK, it might not be ​that​ memorable, but it's still a fun way to celebrate Valentine's Day.
For the rest of February, the Waze app is letting you change your settings to feel all the love. The app offers three Valentine's Day options: to have your driving directions delivered in the voice of Cupid, change your car icon into Waze's Lovewagon, and your public icon can be switched a purple heart-face with a bow-and-arrow attached.
Cupid is the god of desire, erotic love, attraction and affection, but since a mythological figure doesn't actually have a voice, the voice you'll be hearing on Waze is just the app's version of Cupid's voice.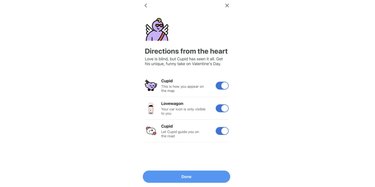 To set up your Valentine's Day experience, head to the Waze app and tap "My Waze" and find the Cupid button to Activate. Once activated, you'll notice that Cupid isn't just hearts and love — the love god has snarky comments sprinkled in here and there to add some fun to your drive.