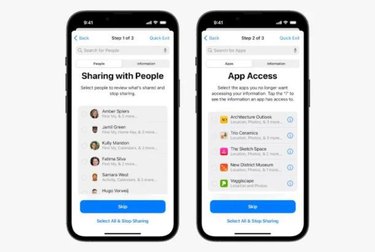 Apple announced a slew of new features coming to iOS 16 at WWDC 20222 on Monday, including Safety Check, which is intended to help those in abusive relationships.
Safety Check allows you to audit who has access to your passwords, apps, and location and to cut them off immediately. The feature displays a list of contacts you've shared access with along with what's shared with them, including apps like Find My, location, contacts, data, and more.
If you are connected to an abusive partner on any of your Apple devices, the feature lets you revoke access without alerting the person. You can also use the Emergency Reset feature, which resets access across devices synced with your iCloud account for everyone on the list. You can also use the feature to review your security settings.
Safety Check won't prevent domestic abuse from continuing, but it's a step in the right direction for security. If you need support, the National Domestic Violence Hotline is open 24/7 at 1-800-799-7233.