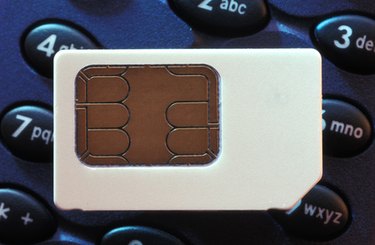 TracFone is a popular pre-paid wireless provider offering users cell phone plans without contracts. TracFone offers four brands of no-contract phones: TracFone, Net10, SafeLink and StraightTalk. Many TracFone models come with SIM cards so users can store information such as contacts, ringtones, wallpaper and other mobile downloads. TracFone SIM cards can be locked to protect saved personal information.
Step 1
Turn off the TracFone by holding down the power button. Remove the back cover by holding down the back cover release button while sliding the cover down.
Step 2
Remove the battery and locate the SIM card slot. Remove the SIM card carefully, paying close attention to its position. This will be helpful when it's time to replace the SIM card.
Step 3
Unlock the SIM card by sliding the switch on the back side of the card down to the unlock position. A symbol of an open lock indicates the correct position.
Step 4
Replace the SIM card in the slot. Push the battery back into the battery slot with the labels and text facing down. Slide the battery cover back into place.
Step 5
Power the TracFone back on by pressing the power button once. The SIM card is now unlocked and you will be able to add, edit or remove files and information.