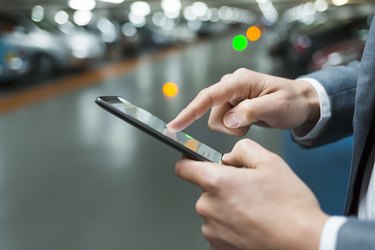 When you buy a mobile phone, it generally comes branded to a mobile provider. When your contract is over, you may decide to move on to another provider. T-Mobile and AT&T are two providers that are easy to switch between, because they both use Global System for Mobile Communications networks. But if you want to take your mobile handset from T-Mobile to AT&T, you have to unlock the subscriber identity module application first.
Step 1
Turn on your T-Mobile phone. Press *#06# and press the send button. Write down the 15-digit IMEI number that appears on your T-Mobile phone screen.
Step 2
Call T-Mobile customer service to request the unlock code for your phone, based on the IMEI number. Give T-Mobile your email address to send the unlock code and instructions.
Step 3
Follow the unlock code instructions you receive in your email to unlock the handset. Remove the SIM card from your T-Mobile phone after you unlock it. Replace it with an AT&T SIM card. Turn the phone back on.