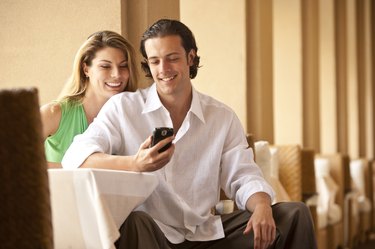 Cricket cell phone service, which uses pay as you go plans, is considered less expensive than many of Sprint's plans. If you are a Sprint customer who wants to switch over to Cricket, you can cancel your Sprint service and unlock your phone so you can use it with your new Cricket service.
Step 1
Contact a Sprint customer service representative and ask him how far along you are in your contract. It is best to cancel your Sprint service at the end of your contract, because you will have to pay termination fees if you cancel in the middle of your contract. Consider the amount of money that you will save when you switch phone providers, to determine whether the termination fees are worth it.
Step 2
Ask the Sprint customer service representative to unlock your cell phone. This is the simplest way to get an unlock code. Sprint will unlock your cell phone for use with other service plans if you are up-to-date on your Sprint bill.
Step 3
Cancel your contract while you are in contact with the Sprint customer service representative. Once your phone has been unlocked by the customer service representative, request that she cancel your contract. Be sure to get your phone unlocked before you request to cancel your service or the customer service representative may refuse to unlock your phone.
Step 4
If the customer service representative refuses to unlock your phone, you can purchase a Sprint unlock code from a third party alternative. Connect to the Internet via a web browser and purchase an unlock code. The reference section of this article includes websites where you can purchase unlock codes for cell phones.
Step 5
Contact Cricket and purchase a pay as you go plan. Cricket wireless has a variety of plans to choose from and you can purchase a pay as you go plan that will most fit your needs. You can make the purchase through Cricket's website, a Cricket store or through a third party.
Step 6
Notify Cricket that you wish to activate your old cell phone. Cricket will give you a new SIM card and activate your cell phone so that it works with its system.