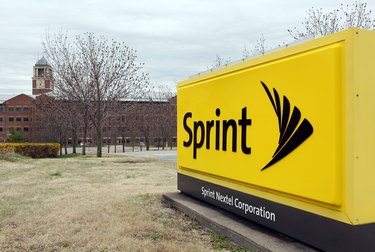 Sprint typically charges a $30 activation fee for each new line, whether you use an existing device you own or purchase a new one through the carrier. This fee helps cover expenses for account setup and may be added to your first bill or paid at the time of purchase. While promotions change over time, you may waive the Sprint activation fee through placing your order online, taking advantage of carrier switch promotions, being a member of certain organizations or canceling service. You can also try contacting Sprint before or after you make your purchase.
Order Your Phone on Sprint.com
Occasionally, you get the Sprint activation fee waived if you place your phone, tablet or wearable order online. When Sprint offers the promotion, you'll see a banner on the site's online shop mentioning a waived activation fee. Ordering your phone through Sprint online also comes with other perks, including free shipping and the option to pick up your device at a local Sprint store the same day you order it. You may also find special pricing for some devices purchased online.
Find a Carrier Switch Promotion
If you're switching from another carrier, you may be able to take advantage of carrier switch promotions that waive the Sprint activation fee and offer monthly savings for a period of time. Such offers usually show on the Sprint.com "Offers" page and carry conditions to qualify. For example, if you plan to use an existing phone, you'll have to confirm that the phone is paid off (if financed through the previous carrier) and eligible for Sprint service. You'll also pay a fee for a SIM card.
Use an Organizational Member Discount
As a member of a credit union, AAA or another organization, your benefits might include discounts on Sprint devices, an activation fee waiver and waived upgrade fee. Your savings can vary depending on whether you select a personal or business Sprint plan. Check your organization's benefits website to see if an offer is available. If there's an offer, you may have to order through a special link or visit a Sprint store where you'll present proof of membership.
Contact Sprint to Request Waiver
If you recently activated your device but didn't use any special Sprint coupons to waive the activation fee, you can try contacting Sprint to remove the activation charge from your bill. You might also call Sprint or visit a local Sprint store to ask for an activation fee waiver at the time of purchase. While there's no guarantee you'll receive a waiver, it can still be worth a try since you may learn of other offers that can help you save money.
Get Refund for Canceled Order
Sprint has a satisfaction guarantee that gives you 14 days to decide whether you want to keep the service. If you decide to cancel service and return your device, you can get a refund for the activation fee and other charges for your device, taxes, service charges and other fees. You can initiate the refund process online, on the phone or at a Sprint store. Your device has to be in good condition and include its accessories to qualify.