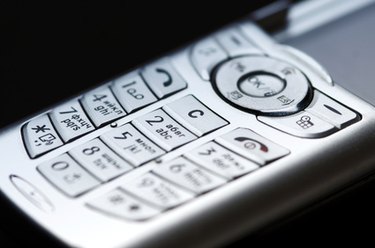 The number of cell phone users who are selecting a prepaid service is growing. While most people find having access to a cell phone convenient, not everyone needs the stress of a monthly bill. TracFone is a well-known prepaid cellular company, and phones are sold at many department stores throughout the country, including Walmart. When you first register a TracFone, you associate a name, email address and nickname with each phone number. It's possible to change this information after a phone is registered. Begin this process by navigating to the main TracFone website.
Step 1
Click the "Sign In to My Account" option on the TracFone homepage.
Step 2
Enter your email address or TracFone user name in the field labeled "User ID/Email."
Step 3
Enter your password in the field labeled "Password."
Step 4
Click the "Sign In" button.
Step 5
Select the "Update Personal Profile" option on the left-hand side of the account summary page.
Step 6
Add the first and last name that you would like to associate with your TracFone telephone number.
Step 7
Click the "Save" button at the bottom of the page.
Things You'll Need
Email address or TracFone user name

TracFone password
Tip
If no name is associated with your TracFone telephone number, follow the instructions to register your new TracFone. Provide the serial number that came with your phone to complete this process.
Only one name at a time may be associated with each TracFone number.
Only the main owner of the TracFone account can make changes to any phone on the network.
You can associate several different names with their respective phones to the same main account by selecting "Add New Phone."
You can edit the nickname used to identify your TracFone by clicking "Edit Nickname" in the field next to the picture of your TracFone model.