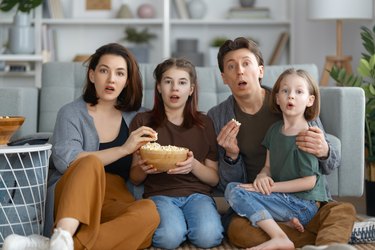 Disney+ is about to start charging you more money for a subscription while also adding ad support. The streaming platform announced that starting Dec. 8, it's adding a new pricing structure that includes advertising support, which means your kids will have to sit through commercials unless you pay even more.
Disney+ with ads will be $7.99 per month — the current price of Disney+ without ads. The price of Disney+ with no ads (which will be called Premium) will increase $3 a month to $10.99.
You'll also have the option for ad-supported Disney Bundle Plans, which includes the Basic Disney+ and Hulu with commercials plan for $9.99 per month and a bundle of Disney+, Hulu, and ESPN+ with ads for $12.99. The Legacy bundle plan includes Disney+ with no ads, Hulu with ads, and ESPN+ with ads at $14.99, and the Premium plan consists of Disney+ and Hulu with no ads and ESPN+ with ads for $19.99 per month.
"With our new ad-supported Disney+ offering and an expanded lineup of plans across our entire streaming portfolio, we will be providing greater consumer choice at a variety of price points to cater to the diverse needs of our viewers," said Disney Media & Entertainment Distribution chairman Kareem Daniel in a statement.
Ad-supported plans are becoming the go-to way for streaming companies to make up for declining viewership. In fact, Netflix is also planning to roll out a commercial tier sometime next year.