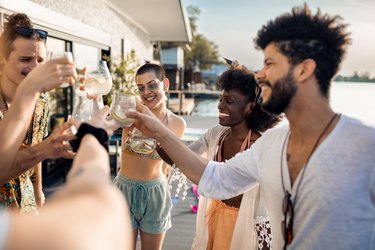 Airbnb has a problem with some users hosting unapproved parties at the homes they rent. While parties are fun to attend, they're way less fun when you're the owner of the house, especially when they cause damage, noise pollution, fines from the city, and other problems.
Back in June, Airbnb banned parties in the U.S. and Canada altogether, and now it's introducing new anti-party tools to "help identify potentially high-risk reservations and prevent those users from taking advantage of our platform," according to blog post from the company.
The new feature will look at previous reviews, how long the user as been on Airbnb, the length of the booking, and if the booking is on a weekday or weekend. The system will also check how far the user lives from the property booked — the objective being to "reduce the ability of bad actors to throw unauthorized parties which negatively impact our Hosts, neighbors, and the communities we serve."
Similar to the "under 25 system" which prohibits guests under 25 from booking local properties, the anti-party technology is designed to prevent a reservation from going through.
Airbnb notes that while the goal is to crack down on unauthorized parties, the system isn't perfect, it'll hopefully help.