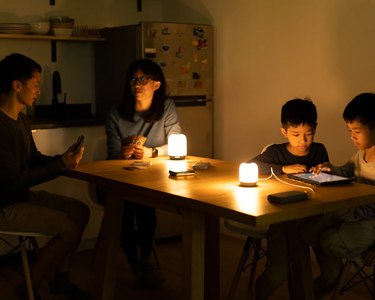 You never know when the power might go out due to the weather, a natural disaster, or your power company doing routine maintenance outages (like I just dealt with on a busy work day). If you've been looking for a home emergency kit that'll provide power and lighting when you need it, check out a kit I've incorporated into my life that and has not disappointed.
BioLite is an energy solutions company that recently released the BaseCharge Home Emergency Kit, an all-in-one ecosystem solution for power outages in your home. I used it to keep the WiFi on as my neighborhood's power was turned off for routine maintenance, and it worked like a charm. I was even able to keep several other devices plugged in.
It might look fancy and high tech, but everything in this home emergency kit is easy to prep and even easier to use.
Included in the kit is the BaseCharge 1500, a high-capacity power station that works like a portable outlet. It can keep phones, laptops, routers, refrigerators, coolers, power tools, and medical devices running for days. The device features USB, USB-A, and USB-C inputs, as well as DC and regular wall outlets. You can also plop your smartphone on top for Qi wireless charging.
An LED screen tells you how much time is required for a full charge, and it also lets you know the number of hours of power that remain. To give you an idea, my device was fully charged when my power was shut off for the day. I had my WiFi plugged in for 6 hours and only 7 percent of the battery was used.
The BaseCharge can be used on its own or paired with SolarPanel 100 (an additional $400) to work as a fully independent solar generator. The solar panel would prevent the power station from running out of power after a few days, which is one less thing you'd need to stress about. Either way, the company recommends recharging the device every 6 months to ensure the battery is full when you need it.
Also included in the kit are three lanterns that can provide light in three different rooms, one headlamp, and a small power bank for additional portable power.
Of course, the kit is ideal for emergency situations at home, but it's also a great way to provide power while camping or other outdoor events where you might need power. The emergency kit is certainly an investment at $1,800, but it's an investment you'll be glad you made when you don't have power. For a limited time, use code SUMMER10 to receive $179 off.