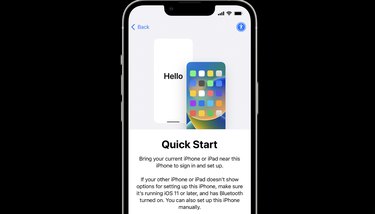 If you're planning on upgrading to one of the new iPhone 15 models and need a quick crash course on how to safely transfer all your data from one iPhone to the next, you've come to the right spot.
Once you have your new device, you should start the transfer when you won't need to use either device for several minutes.
How To Use Quick Start Transfer Data To A New iPhone
Connect your current iPhone to WiFi and make sure Bluetooth is turned on.
Turn on your new device and set it near your current one.
Follow the onscreen instructions to get started.
Connect the new device to WiFi or your device's cellular network. (You might be prompted to activate your cellular service.)
Follow the prompts to set up Face ID or Touch ID.
Choose one of two ways to transfer your data.

If you download from iCloud, your data and apps will download in the background, allowing you to use your device right away.
If you transfer directly from your previous device, you'll have to wait until the transfer is complete on both devices before you can use them.

While your data is transferring, keep both devices near each other and charging. Transfer times can vary based on how much data needs to migrate and your network connection.
You can also choose to set up the phone manually.