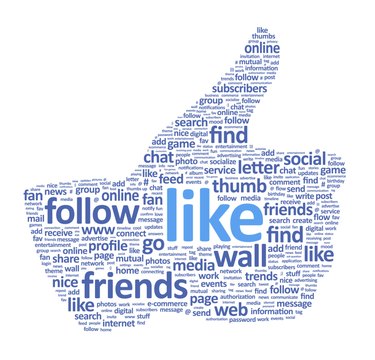 When you read Shakespeare, some of the words and expressions might be difficult to understand because the English language has evolved over time. Abbreviations used in Facebook, other online applications, emails and text messages represent the continuing evolution of our language. They enable users to write messages more quickly, with fewer characters and to interject emotion that's difficult to convey in written messages. They are especially important as we experience a shift from predominantly verbal communication over the telephone to predominantly written communication using text messaging, email, blogs, Facebook and other online social media sites.
Facebook-Specific Abbreviations
Some abbreviations on Facebook are specific to the social media network and its features. If you happen to be FBF with someone, it means you're Facebook Friends. You can communicate with your FBF using FBC, or Facebook Chat, the live, instant messaging feature. When you use Facebook to make an announcement, the subject of your announcement gains presence by becoming FBO, or Facebook Official. Those who constantly obsess over Facebook and spend time correcting other people's spelling errors or completely tagging every photo they encounter might be deemed to have FBOCD, or Facebook Obsessive-Compulsive Disorder.
Conveying Emotion
According to Susan Tardanico, the CEO of the Authentic Leadership Alliance and contributor to Forbes website, only 7 percent of communication comes from the spoken or written word. The remaining 93 percent comes from nonverbal body language. Some Facebook abbreviations focus on adding emotion to a message to communicate a tone or interject a feeling so the reader doesn't misinterpret a message. LOL, or Laughing Out Loud, suggests that the reader should envision the writer chuckling about what he wrote at that particular point. You should envision the author laughing when you read ROFL, or Rolling on the Floor Laughing. You can abbreviate even more hysterical laughter as ROFLMAO, or Rolling on the Floor Laughing my Ass Off.
Abbreviating With Punctuation
Punctuation is also used as an abbreviation to convey emotion in Facebook and other online messages. For example, :) and :-) abbreviate a smiley face; :( and :-( abbreviate a sad face; :| and :-| indicate a disappointed face. When you want to wink at someone, you can abbreviate it with ;) or ;-). You're not required to abbreviate common emotions, however. Writing , or is also acceptable.
Familiar Abbreviations for Unfamiliar Users
Younger Facebook users have grown up with the Internet and text messaging. They are so used to abbreviating words and phrases that they do it without even thinking about it. Older Facebook users who are more accustomed to traditional written communication are less familiar with abbreviations, might be unsure of their implied meaning and might even be afraid to misuse an abbreviation. However, older people who have never used Facebook are already familiar with a number of abbreviations used online that are identical to common written acronyms. Familiar abbreviations such as ASAP for As Soon As Possible; BTW for By the Way; and FYI meaning For Your Information are also standard Facebook abbreviations.
Hashtags
Twitter introduced the hashtag, a word preceded by the # sign, as a way of identifying tweets that refer to the same subject. For example, a tweet that's followed by #WorldCup2014 is a tweet about something to do with the 2014 World Cup soccer tournament. Facebook adopted the same functionality that enables you to indicate the subject of a message, status update or other post by adding a hashtag to it. Hashtags are commonly abbreviated also, and while you can create any hashtag you want, your message is only linked to other messages that use the identical hashtag.