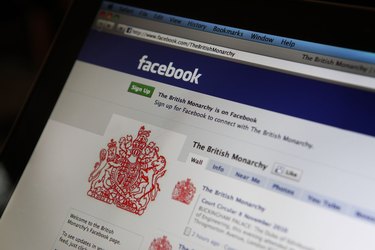 Your Facebook thumbnail is a smaller version of your profile picture, which is the first image that greets visitors to your profile. The thumbnail is automatically posted next to any comment or post you leave on the social-networking site. Normally, Facebook crops your profile picture to create the thumbnail if your picture is too big. To fit a large profile picture, such as a rectangular photo, into the thumbnail box, you need to tell Facebook to scale down the photo.
Step 1
Log into your Facebook account and click the "Profile" link at the top of any screen.
Step 2
Hover your mouse over your profile picture, located in the upper-left corner of your profile, and click the "Change Picture" link.
Step 3
Click the "Edit Thumbnail" link beneath the preview of your profile picture.
Step 4
Check the box next to "Scale to fit," located beneath the thumbnail version of your photo. Instead of cropping your image, Facebook will shrink down your photo so that the entire photo fits into the thumbnail.
Step 5
Click the "Save" button to add the new thumbnail to your profile.