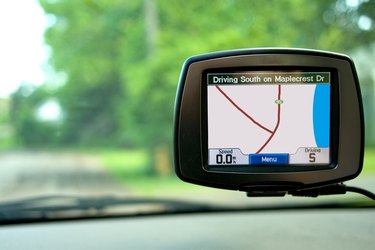 A global positioning system uses satellites to determine your current physical location. Originally created by the U.S. Department of Defense to improve military navigation, GPS devices now are available for consumer use. These devices provide convenient turn-by-turn driving instructions that may simplify everything from your daily commute to your next road trip. Although this convenience is the most common benefit, there are other advantages to GPS devices -- likewise, there are some disadvantages too.
Device Options
GPS units come in a variety of different formats. For example, certain vehicles come equipped with a built-in system that uses a CD or a satellite to provide directions. If your car lacks this capability, however, portable GPS devices you can mount on the windshield or dash offer the same functionality. In addition, many smartphones feature a navigation system that you can keep at your fingertips. This type of GPS device diversity offers a solution to meet most needs.
Neighborhood Search
Many GPS devices provide the ability to search a desired location for specific landmarks, such as restaurants and gas stations within a specific radius to your current location. This functionality may help to determine the best places to stop during road trips or even day-to-day travels. Other landmarks often include hotels, museums, airports and other common areas of interest. It is important to remember that not all GPS devices will account for recent neighborhood landmark changes. Therefore, it is best to call a business for confirmation or to have a backup plan in place.
Weather and Traffic Alerts
Depending on which device you use, your GPS may provide weather and traffic alerts. These alerts inform you of adverse weather or traffic conditions. For example, your GPS may notify you of road delays or closures due to construction or traffic accidents. Typically, these alerts include an alternate route. Unfortunately, you may not receive the alert in time to change your route, or the alternate route may be considerably longer than the original.
Accuracy
Over time, road names change and new roads appear. Because of this, your GPS may provide incorrect directions. For example, the system may tell you to turn left when you should turn right. Although definitely an inconvenience, this inaccuracy has the potential to be dangerous, too. For example, the GPS may send you the wrong way down a one-way street. Updating your GPS software may reduce the chance of taking a wrong turn. These updates may come at a financial cost, depending on your specific GPS. Updating an automotive navigation CD may cost more than purchasing a portable device.
System Trouble
When you forego maps for GPS, you may find yourself in a bind in certain situations. For example, if you are in an area that can't gain access to the satellite, you must wait until you are within satellite range before you can get directions. Likewise, a smartphone navigation system only works where you have cellular service. Other potential problems include dead batteries, lost cables and complete hardware failure.