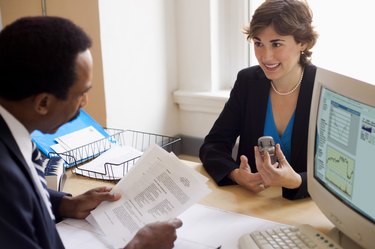 With Microsoft Access, the average user can work with databases without being highly skilled in the field. Microsoft made it easy for just about anyone to learn how to work with databases by replacing some of the complicated work with easy-to-use templates. While using Access can be somewhat of a challenge just because of the extensive options it offers, its user-friendly interface gives anyone the opportunity to successfully operate a database.
Using Access
Microsoft Access is a database software program that makes manipulating data manageable for users of varying skill levels. You can input data and sort, filter or group information according to your needs. It's particularly useful when there are thousands of records and sorting through them individually would take hours. Access allows you to obtain the information you need quickly by specifying what type of information you are looking for. Reports can be created, too, that pull information out of the database according to the project parameters. For example, a database may contain a list of customers, including their age, sex, marital status, address, email addresses and phone number. If needed, you could sort any of this information, creating reports on single clients only, or organized by area code.
Benefits of Access
Knowing that not everyone is skilled at making databases, Microsoft created basic templates that a user can download and use immediately. If preferred, you can build a database from scratch or tweak a template to suit your project. Access stores thousands of records so if you start a new project for the same data, you won't have to enter it all over again. Access also integrates with other Microsoft Office products, including Excel and Word. For example, you can create a mail merge with thousands of personalized letters by tapping into an Access database of clients.
Web Apps and Collaboration
With Access 2013, Microsoft introduced customizable Web apps to streamline data processing for users and to make collaborating on projects easier. Using a Microsoft Office 365 site or a SharePoint Server 2013, an entire office can work with the same database. Using customizable Web app templates, you can ensure each person gets the interface they need to add, edit or delete data, as well as run reports.
Important Database Terms
Access uses several terms that may be new to you. A "database" is simply a way to organize and store information about people, places and things. Access is actually a database management system which houses those various databases so you can access them. Each database can be made from several tables, with each table made of columns and rows, similar to a spreadsheet. The columns in a database table are called "fields." The rows are referred to as "records." "Queries" are functions that allow a user to obtain specific data from the table. Queries can help filter, summarize and perform calculations with your data.
Designing Your First Database
A little planning goes a long way for the best use of an Access database. First, figure out how the database will be used. Next, gather all information to be input into the database and organize the information into categories, each of which will become a table. Input the data into the tables, which will become columns and create relationships between the tables if there are more than one. Finally, apply normalization rules to make sure the tables are structured correctly.