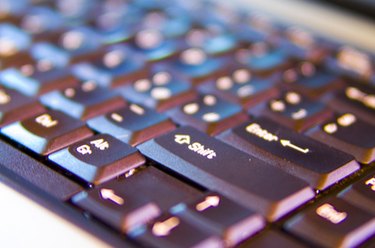 Everyone has used a database in one form or another. A telephone book even qualifies as one. Databases store information and organize it into a practical form. Software applications, such as Microsoft Access, computerize database functions giving the user great flexibility with their data. Operators who take the time to learn how to utilize database software will save time in the end.
Tables
The basic information stored in a database program gets entered into a table. Similar in appearance to a spreadsheet, like Microsoft Excel or Lotus 123, tables provide an organized way to input information. Users have the ability to create field names, such as name, address and customer identification number. Users may also format the fields in the table. For example, a numeric field can appear with monetary formatting such as dollars or euros.
Most database software programs have templates available for frequently used formats, such as contact management, sales or inventory tracking. Users have the ability to modify these templates to personalize them for their own specific purposes.
Forms
Database software includes the option of creating user-friendly forms to make the task of entering data easier on the operator's eyes. Workers have the power to adapt forms to suit their needs. Using customizable templates for forms makes the creation process faster and easier.
To help those entering data into the form, the use of messages gives guidance. For instance, when those entering data need to choose from a drop-down menu for a given field, the creator of the database has the option of adding a pop-up message when that field gets selected, reminding users to select from the drop-down menu.
Reports
Database programs include report creation functions. Reports allow users to manipulate their data in numerous ways. Users can insert functions into reports to help in analyzing the data. For instance, a sales department can create a report that shows only their first quarter data while giving totals for each month separately.
Report creation typically allows creativity in designing the appearance of the report. Visual aspects, such as font choices, field locations, insertion of graphics and manipulation of colors allow the designer of the report to make it visually pleasing and professional.
Data Functions
Database software provides users with features to organize their information simply and specifically. For example, using sorting functions allows for alpha or reverse-alpha sequence, usually by simply clicking an icon. Filtering functions let users draw out information by specified criteria.