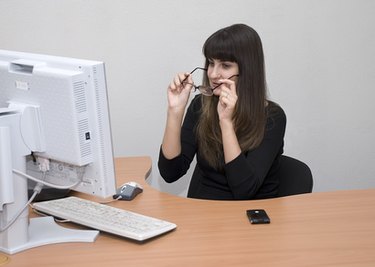 Finding a typewriter might prove a difficult task in this age of computers. Word processing software has all but completely replaced them. Loaded with powerful features, these programs give users the ability to create impressive documents in a relatively short time. Several popular word processing packages exist to suit the needs and preferences of various users.
Microsoft Word
Part of the Microsoft Office suite, Word consistently wins the title of the most widely used word processing program worldwide. Word 2007 features tools that give the program a great deal of flexibility. For instance, besides basic word processing functions, Word also has desktop publishing capabilities. Built-in templates allow users to easily create complex output such as brochures, schedules and expense reports.
All of the Microsoft Office programs have the capacity to work together. For example, an Excel worksheet can exist within a Word document. Word has the power to easily perform mail merges with Excel lists or from an Access database file.
Microsoft Works
A scaled down version of Microsoft Word, the word processor in Works 9 still includes all of the basic functionality required for simple uses, such as creating correspondence. The program contains pre-designed templates. For example, if a user wanted to use the Works word processor to create a greeting card, the built-in template would greatly simplify this task.
Word processing makes up only one portion of the Works 9 suite. The package also includes a spreadsheet program, a calendar and a database. Documents created in the Works word processor can open and be edited in Microsoft Word. Likewise, Works can use a Word document.
OpenOffice
Part of the Open Source software initiative, OpenOffice provides a free suite of computer applications. Programmers, disheartened by the high price of software programs consumer must pay, developed OpenOffice to make a quality suite of products available to the public for free.
The OpenOffice suite includes a word processor, spreadsheet, presentation program, database and graphics editor. As with the Microsoft Office suite, the OpenOffice programs work with one another.
The word processing program within OpenOffice closely resembles Microsoft Word 2003. Users of this version of Word would have no difficulty using the OpenOffice word processor. An added benefit of OpenOffice's word processor shows when saving work. The program has the ability to save documents in Microsoft Word format.
Corel WordPerfect
One of the founders of word processing software is Corel, and its WordPerfect suite contains several software programs essential for business and home users. The suite comes with the WordPerfect word processor, QuattroPro spreadsheet program, Corel Presentations and WordPerfect Mail. Like other office suites, the Corel products work together, allowing users to include data from a spreadsheet or database in a WordPerfect document. WordPerfect's word processor allows users to save documents in a Microsoft Word format and to import Word documents.