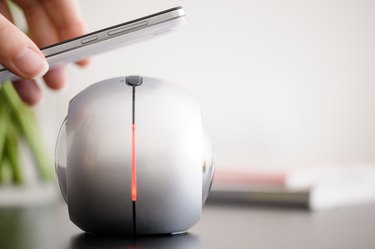 When you have an iPhone or any other iOS device, you need to sync it to iTunes if you want access to and update your music and videos on the device. Syncing iTunes via your devices' Bluetooth capabilities is not possible. The traditional means of connecting your device to the computer is through a USB cable.
Syncing iTunes
When it comes to syncing your device to iTunes, you will not be able to use the Bluetooth capabilities of the device. If you want to sync the iPhone, iPad or iPod to a computer, the USB cable is the standard method of connecting the two. Bluetooth syncing is not supported by Apple and it does not connect to the iTunes on your computer. Instead, most people use the USB cable that came with their device.
Wireless Sync
Although the USB cable was the only method available for syncing an iOS device in the past, Apple made it possible to sync wirelessly with the iOS 5 update. With this software update, wireless sync was added as a standard feature. With wireless sync, plug your device into charge, launch iTunes on your computer and the syncing process starts. You must have your device and your computer connected to the same home network for this process to work.
Bluetooth Application
Although there is not an official Bluetooth syncing process, you could download an application that makes it possible to share information over a Bluetooth connection. With the Bluetooth Communicator app, you have the option of sending information via Bluetooth without the need for cables. This application makes it possible to send photographs, contacts, text messages, notes and even voice messages. To get access to this application, you will need to download it from the App Store and turn on your device's Bluetooth. As of the date of publication, the app is about $2.
ICloud
Another option to consider is the iCloud technology that is available from Apple. With iCloud, any data that you save to your iOS device is automatically added to your iTunes account. If you download a song from iTunes on your computer, it is immediately added to the iTunes player on your iPhone, iPad or iPod. This makes it possible to sync all the information on your devices without having to worry about Bluetooth or a USB cable.