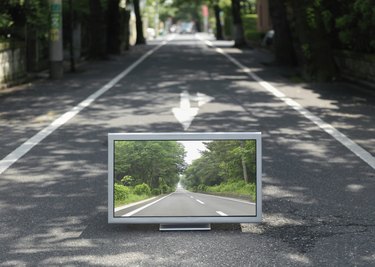 The song "Video Killed the Radio Star" was the first music video played by MTV as it revolutionized the music industry. Today there is a new revolution on the horizon. Although Internet TV sites, such as Hulu, have not killed normal television, they certainly have adjusted the way networks deliver their media. However, some users have found the features still need something more.
About Hulu
Hulu was founded in March 2007 in an effort to provide on-demand television and other video content through the Internet to viewers around the world. Corporations that have a stake include The Walt Disney Company, NBC Universal, News Corporation and Providence Equity Partners, in addition to the Hulu team. User experience is a primary component of its business model, minimizing the interruption of commercials that you find on normal TV.
Free vs. Hulu Plus
To offer free television to Internet viewers, Hulu implemented a commercial-like strategy into its model. However, the commercial breaks only last up to a minute, and in some cases you can choose to watch a long-form commercial in exchange for commercial-free viewing for the remainder of the show. Although the paid subscription does not get rid of commercials, it gives you access to more content right away.
Offline Viewing
Hulu is a live stream website that delivers video content through the Flash platform. As a result, video content is not downloaded to the computer or device. This means that the video can only be watched live with an Internet connection. The Hulu Plus paid subscription does not offer any additional benefits when it comes to offline viewing.
Software Solutions
As the desire for offline viewing of Hulu continues to grow, software applications have been developed to fill the void. These applications record the live stream and file it on the computer to be viewed at a later time. Two such applications are Replay Media Catcher 3.0 and StreamTransport. The files are downloaded in an FLV format that can easily be played on a computer using Flash Player. However, a program such as VLC Media Player or Videora iPod Converter is needed to convert the video for play on other platforms.