Improving the quality of a digital image can be daunting if you don't have photo editing know-how. Photo editing software programs make the job a bit easier. As you learn commonly used techniques, improving your image's resolution is attainable.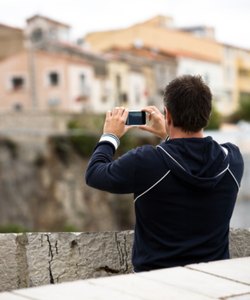 Step
Search "file" on your navigation bar along the top of the photo editing program. You can also use the "search index" in your "help" file to locate where to edit your photo.
Step
Click on the toolbar to find which one will allow you to edit resolution. From the navigation toolbar, a drop-down toolbar reading "edit photos", "re-size image" or "file properties" will appear.
Step
Find the "re-size image" toolbox to change the resolution of your photo. Change this number to the highest possible number of pixels. For instance, a quality 8-by-10-inch print is usually 300 DPI (dots per inch). Most software programs allow you to choose number of DPI for that particular photo. Remember, the higher resolution mean better quality that gives you opportunity to increase the size of the photo and maintain sharpness.
Step
Check the resolution of the photo before downloading from your camera or scanning to your computer. If the photo isn't high-resolution you can't add pixels to improve the image's quality. But if an image is high-resolution (300 DPI or higher), you can remove pixels to reduce file size or edit for blemishes or scratches. You can only change resolution if you have enough DPI in your image to work with.
Step
Save a photo once you have changed the resolution. For higher resolution photos (300 DPI or higher) it's better to save a photo in a TIFF format. JPEG format is a photo format used for Web and e-mail purposes because it's more compact.
Step
Send the photo to the printer to test the results. Although an image may appear to be high quality on a computer screen, the printed photo will show whether it's it's worthy to be framed and placed on a mantle, or discarded to the trash heap.