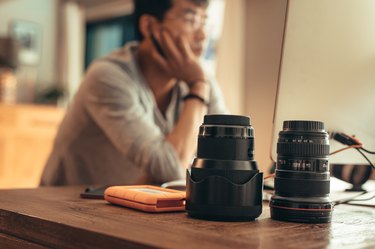 The 2MB file size is highly compressed and designed to load quickly and fit into attachments without exceeding file size minimums. You can use a free photo resizer or compressor, reduce image size in a photo editing program or use your internal editing capabilities on the camera. Editing internally is not an option on every model, but some cameras do offer compressed file upload options. Compressing JPEG to 2MB photo size is common, but you can also compress other formats like PNG with ease. JPEG is the most common and most likely to be compatible with your existing editing program.
Image Resizers
Compressing images with a free resizing program is quick and easy. Do a Google search and numerous options will offer the ability to load an image into their program and download the compressed file after the program adjusts the size settings. You can resize the image by downloading any software, and most programs take only a few seconds to compress the file. This is the quickest and easiest route to compress photo files, and it only requires a web browser and solid internet connection.
Photo Editing Software
Resizing to a 2MB image size is also possible in most photo editing programs. An advanced program like Adobe Photoshop can handle compression with ease, but something basic and standard like Microsoft Paint can also handle the task. In Paint, right click the image and select "Properties" to view the current image size. Select "Edit," then "Resize" to view the resizing tool. You can adjust based on percentage or pixels. Knowing the current image size means you can calculate the percentage reduction requirement to reach 2MB. If the current image is 4MB, for example, a 50-percent reduction will reach your goal. Select the box labeled "Maintain Ratio" before resizing as well. This will maintain the length and width ratios to prevent the photo from stretching.
Camera Editing Programs
Some cameras come with editing programs to reduce photo sizes specifically to fit social media and other outlets that perform better with small file sizes. For example, Nikon created the SnapBridge app to connect their cameras to smart phones via Bluetooth. The app offers the option to load a 2MB photo size or the original image size. The 2MB photo loads quickly and is ready to post on social media or use in other digital outlets. Not all cameras come with this ability, but checking your internal editing capabilities is a prudent practice.