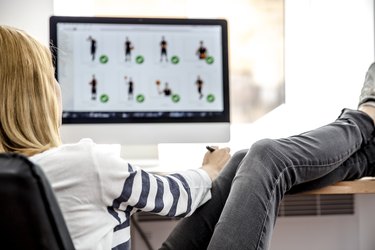 Reducing a photo's size is necessary when the photo is too big to fit as an attachment or a media file in an email, web page, social media account or another digital medium. You can reduce image size using a variety of methods, most of which are simple to execute. Reducing to 300KB in pixels makes the photo an acceptable size for many multimedia programs. Some programs may require additional compression and size reductions while others accept a 300KB file size.
Determine the Current Size
Before reducing a file, determine the current file size. The method for viewing photo file sizes varies based on your operating system and default photo software. Fortunately, almost all photo management programs make it easy to retrieve basic information. Right-click on the photo and select "Info," "Details" or "Photo Settings" to locate the size information. For example, in Google Drive, select "View Details" and then navigate to the "Details" tab to view the file size. If the size is larger than 300KB, you may need to resize it, depending on how the image will be used. If the photo is larger then 300KB by a small margin, resizing or cropping to reduce background elements may help your photo fit into the attachment or social media site.
Photo-Editing Software
Numerous photo-editing programs exist; some offer very basic resizing options, and others, such as Adobe Photoshop, offer a robust and complex set of tools. In the Microsoft ecosystem, you can use Paint or Picture Manager, but Paint is the most common choice for resizing purposes. The basic resizing process varies slightly across programs, but you can usually locate a resize tool in the program toolbar or settings. In Paint, choose "Resize" from the toolbar, and a window opens with width and height options in pixels. You can choose to maintain the ratio and adjust only one dimension, and the other automatically resizes to maintain the correct proportion. You can also resize based on a percentage. If your photo is 600 KB, resize by 50 percent to make a 300 KB file size.
Online File Compressor
File compressors are easy to find online. You can locate a JPG size reducer or a compression program with a web search. Use programs that work in your browser to avoid downloading pesky software programs. The file compressor reduces the file size to an attachment-friendly size that is often well below 300KB. Download the new file, and you now have a friendly social media file in the desired size.
Warning: Resize a copy of the original image. If you reduce it and someday need to enlarge it again from the reduced version, quality is lost.